IN THE LAND OF LEGENDS, AN EXTRAORDINARY LIFESTYLE BECKONS...A DELECTABLE INDULGENCE...MALAYSIAN CUISINE AND DELICACIES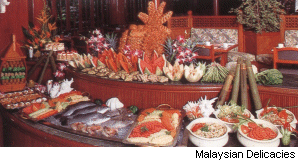 Malaysia is not only well known for its melting pot of cultures but it is also a "melting pot cuisine and delicacies". There is not only Malay, Chinese, Indian and other indigenous food but also Western and other Asian cuisine. Eating out need no appointment and is relatively an adventure and inexpensive.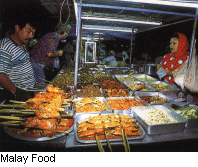 For spicy food, the Malay and the Indian food is available. The most popular is the roti canai, nasi lemak and satay and banana leaf rice.
Chinese dishes is less spicy and many stalls and Chinese restaurants serve varieties of chinese prepared cuisine. Chinese food is cooked after a customer places an order and is served hot. Chicken rice is one of the common meals available from stalls.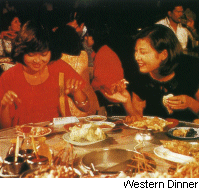 Western food can be found in big air-conditioned restaurants and all fast food chains
Stall food is found in abundenance in all Malaysian towns. Usually the stalls open for business in the evening till late into the night.
Local cakes, cendol and bubur are plentiful and usually taken after the main meals. It is usually sweetened delicacies.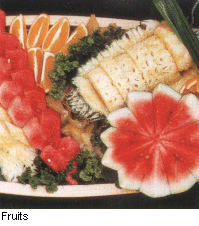 Deserts... Malaysia has a wide variety of tropical fruits which are found in Malaysia all year round. Banana, starfruits, papya, mangoes, pineapples and guava are the most common fruits deserts. Seasonal friuts like durian, mangosteen, langsat, jack-fruit are also found.