Mother Nature's Treasure Trove

Nature's Parks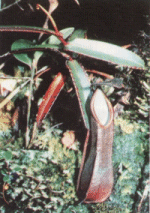 The Malaysian jungles have remained virtually untouched by nature or man for more than 100 million years. Besides the many splendid gorges, magnificent rivers and towering hills, Malaysia's National Parks provide an exhaustive adventure tour of trills and spills - boating, shooting through rapids, fishing, bird-watching, mountain climbing, exploring limestone caves, swimming and camping. Some of the popular National Parks are;
TAMAN NEGARA with an area of 5,000 sq. km, straddles the borders of Kelantan, Terengganu and Pahang. It has a diverse flora and fauna and particularly favoured for animal observation.Mountaineering enthusiast will find Gunung Tahan another challenge to conquer.
ENDAU-ROMPIN NATIONAL PARK covers the boundary between Johor and Pahang. Sprawling over an estimated area of 900 sq km, it is one of the few lowland forest.
KINABALU NATIONAL PARK in the state of Sabah covers an area of 750 sq km. Rising above it is Mt. Kinabalu (4,101m) one of the highest mountains in Southest Asia.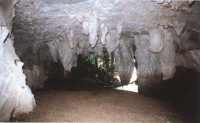 GUNUNG MULU NATIONAL PARK is an amazingly compact area full of limestone fascinations all within the 540 sq km in North Sarawak. It contains the Deer Cave; the largest cave passages known to man at 100 metres wide and 120 metres high, Clearwater Cave which at 51 km, is the longest cave system in Southeast Asia and The Sarawak Chamber - the largest natural chamber in the world at 600 metres long, 450 metres wide and 100 metres high.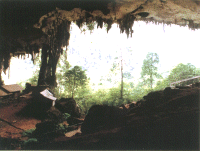 NIAH NATIONAL PARK in Sarawak is made up of 3,100 hectares of forest and limestone. Located high up are birds' nests, a culinary delight that are harvested from the ceiling of the caves by men climbing up bamboo poles.
NATURE'S ISLANDS & BEACHES
Blessed with hundreds of kilometres of golden beaches, Malaysia has varied selection of beaches and island resorts, each with their own unique attractions and charm. Dotting the coastline are many little islands which, with its cool waters, support a fascinating variety of beautiful corals and other marine life within its depths. The crystal-clear waters makes it ideal for snorkelling and scuba diving. Some of the popular islands and beachers are;

PENANG ISLAND (PENANG) is just the island if you seek a seaside vacation. The island is complemented by good sea sports facilities. Popular beaches are lovated at Batu Ferringhi, north of the island, 14km from Georgetown.



PANGKOR ISLAND (PERAK) lies off the west coast of Perak in Peninsular Malaysia. Pangkor remains a haven for visitors seeking a return to nature. Bask in glorious sunshine on her golden beaches. Catch sight of fishing boats rocking gently on her calm waters.
LANGKAWI ISLAND (KEDAH) relatively remote and unspoiled, are for those searching for the ultimate tropical island escapade. It is known for its natural beauty and enduring legends. Popular beaches on the island are Pantai Cenang, Pantai Kok, Pantai Tengah, Tanjung Rhu, Pantai Pasir Hitam. South of Langkawi island are two islands popular for day trip outings. Pulau Singa Besar with over 90 species of birds and animals is a Bird and Animal Sanctuary. Pulau Dayang Bunting's foremost attraction is its enchanting tranquil lake. Legends has it that a couple, childless for nineteen years, were blessed with a baby after the woman had taken a drink from the lake.
REDANG ISLAND (TERENGGANU) designated as a marine park, is the largest of a group of islands off Terengganu. Scuba diving and swimming are the main activities here.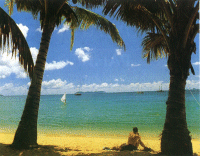 TIOMAN ISLAND (JOHOR)located off mersing, is the perfect island for those seeking tranquility and retreat. Its beaches are refreshingl unspoilt, being devoid of the usual commercial trappings. It is the perfect island in the sun, with reefs for diving and clear water for swimming and snorkelling.
TANJUNG ARU BEACH (SABAH) six kilometres from Kota Kinabalu, Sabah is a long stretch of beach lined with picturesque palm and casuarina trees all along its soft, fine sands. Among the popular activities here are boating water skiing, windsurfing, snorkelling, and scuba diving.
SANTUBONG (SARAWAK) a picturesque fishing village offers various water sports and recreational facilities, perfect for swimming, snorkelling and other water sports activities.